Prints are great, don't get me wrong, but aside from matting and framing, hanging them on the wall, or sticking them to your refridgerator with a magnet, they just aren't that versatile. In an attempt to really personalize each client's experience with WSP, I constantly look for other options to bridge the gap.
I am proud to annouce a new option my clients! Custom Ceramic Coasters by Deb M.! Now, you can have your images/designs made into handy ceramic coasters. Sealed and finished, the coasters provide protection to your table tops while adding a unique and personalized touch to any space.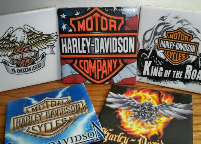 Inquire for more details!